Kyäni Sunset™ is the perfect combination of Tocotrienols (the most potent form of vitamin E) and omega-3s. This product uses pure annatto bush seed to harness the health benefits of Tocotrienols. Kyäni Sunset™ omega-3s are derived from the wild Alaskan Sockeye Salmon and other wild Alaskan fish.
The research has actually shown that wild Alaskan fish have the purest form of omega-3s in the world. Paired together, these two Superfoods are available exclusively through Kyäni Sunset™.
Reasons to take Sunset
Purest Source of Omega-3 & Tocotrienols
Supports Cardiovascular Health
Helps Maintain Healthy Cholesterol Levels
Helps Reduce Inflammation
Supports Cell Membranes
Helps Maintain Healthy Blood Sugar Levels
Promotes Healthy Immune Response
Supports Cognitive Function
Promotes Positive Mental Health
Encourages Healthier Skin and Hair
Promotes Restful Sleep
*These statements have not been evaluated by the Food and Drug Administration. This product is not intended to diagnose, treat, cure or prevent any disease.
Vitamin E
Vitamin E is a very influential vitamin that affects numerous systems of the body. It serves as a powerful anti-oxidant. Vitamin E has also been linked to a strengthened immune system, cardiovascular health, mental health, eye and muscle health and so many more. As a lipid-soluble substance, vitamin E oil also protects your cell membranes and arterial walls.
The Vitamin E Superstar: Tocotrienols
Did you know there are actually eight forms of vitamin E? Vitamin E is divided into two categories—four compounds of Tocotrienols and four compounds of Tocopherols. Tocopherols are the most common form of vitamin E, but studies have found that Tocotrienols are the most impactful.
The primary reason Tocotrienols are more effective than Tocopherols is due to their molecular structure. Tocopherols have a larger head and longer tail, making it more difficult to move. The smaller head and shorter tail of the Tocotrienols allow for more flexibility and higher absorption rates. In addition, studies have found that Tocotrienols promote heart health, proper blood sugar levels, and so many additional health benefits.
The Vitamin E Family
Tocopherol (T)
Tocotrienols (T3)

Apha-T
Beta-T
Gamma-T
Delta-T

Alpha-T3
Beta-T3
Gamma-T3
Delta-T3
Tocotrienols
Tocotrienols and Tocopherols
Several studies have shown that Tocopherols, particularly Alpha-Tocopherols, interfere with the health benefits of Tocotrienols. In one study, six groups of chickens were given varying levels of Tocopherols in addition to Tocotrienols. The chickens that were given little or no Tocopherols had the greatest reduction of lipids. The chickens given higher levels of Tocopherols actually increased cholesterol production. Additional studies have shown that Tocopherols interfere with cholesterol levels, absorption, and anti-carcinogenic properties.
Tocopherols have also been said to…
Block absorption

Compromise cholesterol reduction

Attenuate cancer inhibition

Induce tocotrienol breakdown/catabolism

Increase cholesterol in high doses
The annatto bush, an oily plant that grows in South America, is the only natural compound in the world that offers pure Tocotrienols without the accompanying Tocopherols. Furthermore, annatto Tocotrienol has the highest Tocotrienol concentrations with 150 – 300 times fewer Tocopherols than rice and palm sources. Only Kyäni Sunset™ contains annatto Tocotrienols, offering the most health benefits.
The Power of Tocotrienols
In the past, the majority of vitamin E research focused on Alpha-Tocopherols. It is reported that as little as one percent of all research on vitamin E focused on Tocotrienols. However, a significant shift in focus has taken place in the last two years. As much as 30 percent of recent peer-reviewed research articles have focused on Tocotrienols.
Why the dramatic shift? It's becoming more and more clear that Tocotrienols, particularly delta- and gamma- Tocotrienols, are extremely powerful. Just look as some of the studies conducted on Tocotrienols by some of the most well-known research facilities in the United States.
Omega-3s
Omega-3s are an essential fatty acid required for optimal health. This healthy fat is found in every cell of the body, particularly in the brain and heart. Unfortunately, the body doesn't produce these oils on its own—they must be obtained through diet. If you aren't consuming fish at least three times per week, doctors say you need to supplement with Omega-3s. Studies show that modest amounts of Omega-3s promote heart health. Kyäni Sunset™ contains powerful EPA and DHA forms of Omega-3s found in Wild Alaskan Sockeye Salmon and Other Wild Fish.
Benefits of Astaxanthin
Serves as a powerful anti-oxidant
Maintains heart health
Promotes a healthy gastrointestinal tract
Encourages healthy vision
Protects the skin from damage
Enhances the immune system
Serves as an anti-inflammatory
Astaxanthin
High levels of Astaxanthin are found in Wild Alaskan Sockeye Salmon. This substance gives the salmon its red color as well as an abundance of health-promoting properties. To begin, it is a powerful anti-oxidant. In fact, it has been shown to be up to 6,000 times more effective at protecting cells than Vitamin C! In addition, it helps lower blood pressure and may even protect against various forms of abnormal cell growth.
Kyäni Sunset™:
Proven to Reduce Inflammation by Over 90%
An independent laboratory recently conducted a study to see how much Kyäni Sunset™ reduces inflammation. The results showed that Kyäni Sunset™ reduces inflammation by over 90 percent! If in fact, even in diluted amounts, Kyäni Sunset™ was shown to be as effective at reducing inflammation as the drug Cloroquine!
How many people suffer from inflammatory disorders?
Arthritis – 70 million
Cardiovascular – 60 million
Allergies – 39 million
Asthma – 17 million
Inflammation
Inflammation occurs anytime you get an infection, injury, or diseases. You have inflammation when you have pain, swelling, or a fever. Inflammation manifests itself in the form of many diseases such as arthritis, tendonitis, bursitis, cystitis, and hepatitis. Research has shown that inflammation is associated with every disease from heart disease to diabetes and Alzheimer's disease to cancer.
Causes of Inflammation
Macrophage cells are a major source of inflammatory activity. They produce several compounds that induce inflammatory responses. One of these compounds is IL-1β. When macrophages are stimulated to an inflammatory state, they produce 6.7 times more IL-1β, causing more inflammation and more pain.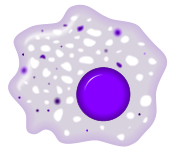 Study Objectives
Trinity Bioactives conducted a study to see how much Kyäni Sunset™ reduces inflammation. Two diluted amounts of Kyäni Sunset™ were used for the study (5 percent and 10 percent of the actual concentration of Kyäni Sunset™). The study compared Kyäni Sunset™ with Cloroquine, a drug that is known to inhibit the production of chemicals that cause inflammation. Chloroquine has been shown to inhibit the production of IL-1β by inflamed macrophages.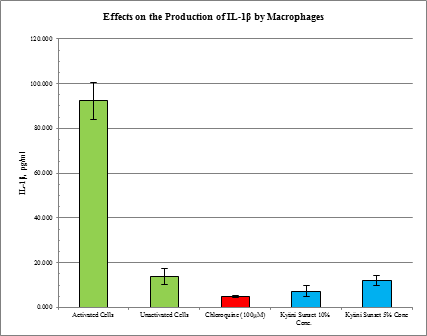 Results
The results showed that Kyäni Sunset™ reduces inflammation by over 90 percent!
The production of IL-1β was prevented. Kyäni Sunset™ was highly effective, even at the diluted concentrations of 5 percent and 10 percent. In fact, Kyäni Sunset™ was just as effective as Chloroquine at inhibiting inflammation!
Experience More: More Health, More Wealth, and More Life with Kyäni Sunset™.
---
Research Facility

Trinity Bioactivies Ltd. conducted the scientific study on Kyäni Sunset™. Trinity Bioactives is an independent research organization based in New Zealand. This prestigous lab has more than 170 assays, models, and tests for assessing biological activities, safety/toxicity, and bioavailability. The Senior staff at Trinity Bioactives has more than 40 years of research experience and knowledge. They specialize in researching natural products, nutraceuticals, cosmeceuticals, medicinal foods, and functional foods.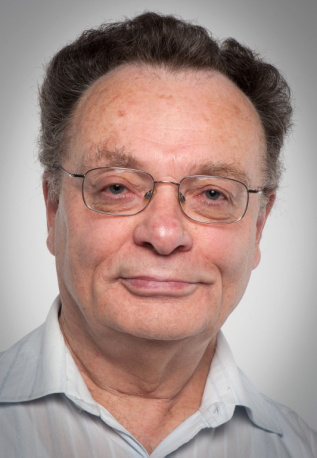 Dr. Paul F. Davis was the primary researcher during the Kyäni Sunset™ study. He is the Chief Executive, Director of Research, and Founder of Trinity Bioactives. Dr. Davis has continuously undertaken biological/biomedical research at research institutes, universities, and commercial organizations for over 43 years. He has served as Senior Research Fellow and Director of the Bioactivity Investigation Group (BIG) at the University of Otago, New Zealand, Director of Research Unit at the Malaghan Institute of Medical Research, and Fulbright Research Fellow at the University of Texas at Austin. Dr. Davis has published 66 peer-reviewed research papers and he was named inventor on 13 patents.
Needless to say, Kyäni takes science seriously! We selected the most prestigious laboratories and researchers in the world to prove that Kyäni Sunset™ will help you and your family Experience More.
Price List
Content:
90 gels
Good for:
1 month
Price:
2,800